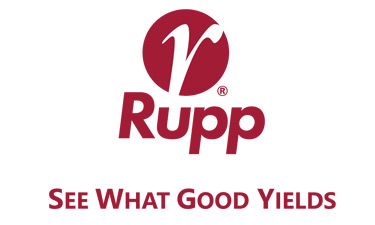 Rupp Seeds is a regional independent seed company and has been providing hybrid corn seed, soybeans, wheat and oats to farmers since our beginning in 1946. We are pursuing new opportunities and continue to invest a great deal of effort in evaluating new genetics to identify those with high yield potential that also possess good plant health and disease resistance. Our staff evaluates fungicide and insecticide seed treatments to select those that will improve seedling health. High-quality seed, genetics, and treatments are all important factors in establishing a stand in your field and a key to realizing your production goals. Because of our commitment to research with an emphasis on performance and protection, we can confidently say – It's in the Bag!®
We offer corn hybrids ranging from conventional to fully traited with RM's from 85 all the way 114 day.
We also offer conventional, Roundup Ready 2, Liberty, and Extend Soybean Varieties with RM's from 1.5 to 4.0
A full range of seed treatments on both corn and beans is also available.
You can also expect excellent service and agronomic assistance.  We can sit down with you and the knowledge you bring of your ground and help you place the right seed on the right acre.  We can also help advise population as well as whether extra applications of fungicide or nitrogen would be beneficial to a particular variety and field.